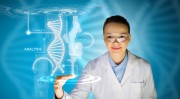 UAE-based research and private equity group Grace Century have announced the successful approval of a new patent for their healthcare technology partners The Quantum Group. The patent, Quantum's 10th to be approved by the US Patent and Trademark office, strengthens their position in the growing Electronic Health Records market.
Ras Al Khaimah, United Arab Emirates, October 8, 2015 (Newswire.com) - ​​Grace Century's Electronic Healthcare Record (EHR) Project, the Quantum Group, has received approval for its 10th patent.
The patent, entitled "System and Method Enabling Bi-Translation for Improved Prescription Accuracy", has received formal notification from its patent attorney the United States Patent and Trademark Office (USPTO) of successful completion of all reviews and is in the process of being issued. The technology behind the patent will enable the conversion of manually generated information (spoken or written) into values which can be codified by computer. The technology will also be able to identify manual discrepancies between manually generated information and it's databank of codified templates. The system would typically be used by caregivers, who can use the technology to input spoken or written information about a patient quickly and accurately in a computer-based databank.
"Advancements like this are not small steps but true barrier-breaking developments, knocking on the door for change for EHR the sector"

Scott Wolf, CEO and Director of Research, Grace Century
Grace Century CEO and Director of Research Scott Wolf said "Quantum's 10th patent is a shining example of their commitment to transforming the healthcare information industry as we know it. Advancements like this are not small steps but true barrier-breaking developments, knocking on the door for change for EHR the sector"
Quantum's 10th patent approval comes hot on the heels of achieving Meaningful-Use Stage 2 (MU-2) accreditation for their Personal Wellness electronic Record (PWeR®) product, adhering to standards set by the U.S. Secretary of Health and Human Services for the Center or Medicare and Medicaid Services (CMS); finalizing a significant upgrade of their PWeR platform from PWeR® 2.0 to PWeR® 3.0; and being awarded a 9th patent approval in August this year. In addition, Quantum currently has an additional 18 patents pending.
Noel J. Guillama, president of Quantum and co-inventor of the innovation commented "We are excited to reach a new milestone in our development by having this 10th patent granted. Quantum has been on a quest to help transform the way providers use technology and improve the quality of care, and the technology behind this patent can help save lives by having computers assist in assuring the quality of medical information, the most obvious being prescriptions."
The market for EHR is expected to grow at double digit rates over the next few years, with MU-2 accreditation being seen as the catalyst for a disruptive force in the industry.
ENDS
About Grace Century, FZ LLC
Grace Century FZ LLC is an International research and private equity consultancy located inRas Al Khaimah, (north of Dubai) in the United Arab Emirates (UAE). Grace Century specializes in "game-changing" life science and health related private equity projects.
For portfolio or company information please email info@gracecentury.com or call +971 (0)7 206 8851
Please direct all media enquiries to info@bigwheel.me or call +971 (0)52 712 1777
Website – http://www.gracecentury.com
Facebook - https://www.facebook.com/GraceCentury
LinkedIn - https://www.linkedin.com/company/grace-century-holdings-fzc-llc
Twitter - https://twitter.com/GraceCentury
Blog – http://www.thegracecenturyblog.com
Pressroom – http://www.gracecenturypressroom.com ​
About The Quantum Group, Inc.
The Quantum Group, Inc. is an innovation-driven organization purposefully designed to bring effective change to the U.S. healthcare industry. The foundation of the Company has been in design, development and deployment of innovative solutions, technology, products and services to the healthcare industry. Our purpose is to seek and assist physicians and hospital providers, as well as government and private sector payers, in managing the treatment outcomes through a patient-centered wellness concept.
Share: