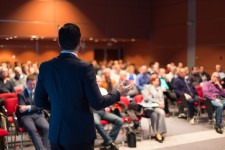 MediXall executives will attend the leading event for disruptive innovation in healthcare slated on May 6-9 at the ARIA in Las Vegas
RAS AL-KHAIMAH, United Arab Emirates, May 4, 2018 (Newswire.com) - Billed as the "newest and most important healthcare event, creating dialogue focused on disruptive innovation in the healthcare industry," the 2018 HLTH Conference will be held at the Aria hotel May 6-9 in Las Vegas Nevada. Top management of Grace Century's portfolio project MediXall Group will be attending the new groundbreaking four-day event for healthcare innovation. MediXall Group is a portfolio investment for Grace Century.
HLTH is the leading event for innovation in healthcare and is expected to attract over 3,000 attendees, 550 "pioneering" CEOs and 375 speakers. It is an unprecedented, large-scale forum for individuals, companies and policymakers who are reshaping the healthcare industry to learn, collaborate and evolve.
The event is unique in bringing together all key stakeholders, ranging from established payers, providers, employers and pharma services to disruptive startups and prolific investors, as well as representatives from government, media and analysts. By leading the development of a new industry dialogue and ecosystem, HLTH's mission is to drive substantial reductions in healthcare costs and dramatic increases in healthcare quality. 
MediXall is also participating in HLTH's Funding Founders Program. This innovative healthcare program connects more than 75 leading healthcare investment firms with the most promising companies, with all Funding Founder meetings being double-opt-in.
Currently, MediXall Group is working with Grace Century's group, which considers companies thought to be potential "game-changers" and innovation disruptors within the space.
Grace Century CEO Scott Wolf comments, "We have built our company on the basis that the future of healthcare was not just going to change, but rather that it had  to change. It is only now that the healthcare sector has caught up with the idea that technology could disrupt the industry as we know it. MediXall's platform is designed specifically to address the growing need of self-pay and high-deductible consumers for greater transparency and price competition in their healthcare costs. By delivering a solution that better connects consumers with high-quality healthcare providers and wellness services, MediXall enables healthcare providers to engage consumers with a level of price transparency and digital convenience that they have come to expect in every other aspect of their lives. With all this said, attendance at this conference was a must."
Neil Swartz, CEO of MediXall, comments, "Our vision for the MediXall platform's prominence in the healthcare marketplace is to create a unified online environment that connects physicians and caregivers to patients, and payers to the caregivers, across all healthcare settings. Starting with pricing transparency and leveraging the just-in-time service delivery model, we intend to expand our service offerings to enable smarter care and empower the customer/patient at virtually every point of the healthcare continuum. We believe the HLTH Conference will be a catalyst for this type of innovation."
About Grace Century FZ LLC 
Grace Century FZ LLC is an international research and private equity consultancy located in Ras Al Khaimah (north of Dubai) in the United Arab Emirates (UAE). Grace Century specializes in "game-changing" life science and health-related private equity projects.
For portfolio or company information, please email info@gracecentury.com or call +971 (0)7 206 885.
Please direct all media enquires to info@bigwheel.me or call +971 (0)52 712 1777.
Facebook - https://www.facebook.com/GraceCentury
LinkedIn - https://www.linkedin.com/company/grace-century-holdings-fzc-llc
Twitter - https://twitter.com/GraceCentury
About MediXall Healthcare Platform
The first product MediXall is developing is the MediXall Healthcare Marketplace, a new generation healthcare platform, which addresses the immediate need of self-pay and high-deductible consumers, price competition and healthcare costs transparency. The platform allows consumers to find self-pay medical treatments at more affordable costs. With MediXall.com, patient/clients find price transparency and the ability to make informed choices based on price, location and schedule for requested medical products and services. In this era of rapidly increasing deductibles and healthcare costs, the cloud-based MediXall platform is designed to be transformational and disruptive to traditional methods of medical care and provisioning of medical services to the consumer.
About MediXall Group Inc.
MediXall Group is a technology and innovation-driven organization purposefully designed and structured to bring effective change to the U.S. healthcare industry. The company believes its revolutionary approach will help drive much-needed change that it envisions is needed in the current healthcare system. The mission of the MediXall Group is to revolutionize the medical industry by improving communication; providing better technology and support services; and enabling more efficient, cost-effective healthcare for the consumer. By approaching the healthcare ecosystem as a whole, MediXall creates, invests and incubates companies that embody its mission statement.
Source: Grace Century
Share: