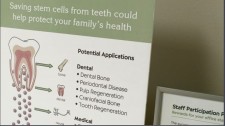 Grace Century's Portfolio Project hits 5th consecutive record year, prepares for huge increases in enrollments and growth of revenue streams
Ras Al Khaimah, United Arab Emirates, January 16, 2017 (Newswire.com) - ​​Grace Century's bio banking project, Provia Laboratories, LLC has reported another yearly record in enrollments for their Store-a-tooth™ cryogenic storage service of dental stem cells, as well as securing facilities for European expansion.
Provia saw a +20% increase in enrollments for year over year. This is proof of the demand resonating from families' awareness of the possible future uses of stem cells and the research on emerging therapies being reported.
"We believe that, by the end of 2017, Provia should be able to see the same kind of enrollment numbers on a monthly basis, which it has previously seen on a yearly basis."

Scott Wolf, President and Director of Research, Grace Century
Store-a-tooth™ technology enables dental stem cells to be expanded, stored, and used in future years to take advantage of stem cell-therapies being researched for conditions such as cardiovascular disorders, type 1 diabetes and muscular dystrophy.
In addition to Provia' s consistent sales increases, Institutional funding has been secured and is being finalized which will enable Provia to dramatically increase is marketing efforts as well as take advantage of its new, soon to be launched laboratory in Europe. This is being done through a partnership with a European firm and will simultaneously open other revenue streams, as part of the agreement, for Provia.
Grace Century's CEO, Scott Wolf, comments "With the injection of true growth capital Provia will be able to expand quickly, where any growth up to this point has been achieved organically. We believe that, by the end of 2017, the firm should be able to see the same kind of enrollment numbers on a monthly basis, which it has previously seen on a yearly basis."
Howard Greenman, CEO of Provia added "To date, growth in Store-A-Tooth revenue was driven mostly by word of mouth. Most families are unaware that the most researched and published type of stem cells – mesenchymal stem cells – are inside their children's mouths and discarded when their children lose their teeth. With our secured institutional capital, Provia will begin informing the larger market of this incredible technology and their opportunity to preserve these cells for their children's future use."
ENDS
About Grace Century, FZ LLC
Grace Century FZ LLC is an International research and private equity consultancy located in Ras Al Khaimah, (north of Dubai) in the United Arab Emirates (UAE). Grace Century specializes in "game-changing" life science and health related private equity projects.
For portfolio or company information please email info@gracecentury.com or call +971 (0)7 206 8851
Please direct all media enquires to info@bigwheel.me or call +971 (0)52 712 1777
Facebook - https://www.facebook.com/GraceCentury
LinkedIn - https://www.linkedin.com/company/grace-century-holdings-fzc-llc
Twitter - https://twitter.com/GraceCentury
About Provia Laboratories, LLC
Provia Laboratories, LLC (http://www.provialabs.com) is a healthcare company headquartered in Littleton, MA which specializes in autologous (cells from you, for you) stem cells. Provia's core business is the preservation of mesenchymal stem cells found inside teeth, Store-A-Tooth (www.store-a-tooth.com). Store-A-Tooth is offered throughout dental and oral surgery offices throughout the United States and available through partners in Central American and Singapore.​​
Source: Grace Century
Share: